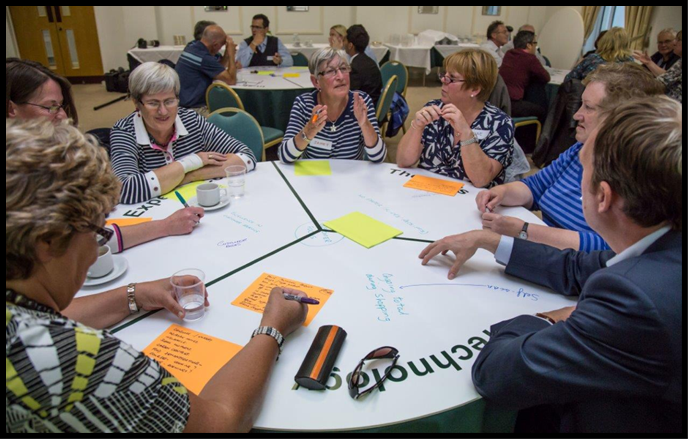 Our Annual Members' Meetings are always fantastic opportunities to take a collective step back from the busyness of business and take stock of where we are, what we've achieved and what we can do even better. I'd like to share with you some of the highlights of what was discussed at our recent meetings in Jersey and Guernsey, in the hope that you'll be part of our next steps in 2016!
2015 was a significant year of change for the Society, where we saw the benefits of difficult decisions start to flow through the business. It was a positive year of growth, which saw both expansions and refurbishment of our retail network. A major refurbishment was completed at Grand Marché in St Peter, Jersey, adding a Tot Stop and travel services, and upgrading the food, pharmacy and medical offer. Significant progress was also made with the Charing Cross development in Jersey, where a way forward was agreed with planners, the National Trust for Jersey, Whitbread plc, while a new site was also found nearby to house a temporary Locale while work is underway.
Trading highlights included a very strong performance from Co-operative Travelmaker, where we saw evidence of a shift away from online, alongside growth in Co-operative Medical Care and Funeral Care. I am delighted with our trading performance in light of the closure of Total Sport, much lower fuel prices and the impact of food deflation – the total turnover figure for the Society in 2015 was £168.7m and the amount returned to members in share interest, dividend and double dividend rose to £8.314 million, up from £8.09 million in 2014 – something I'm especially proud of.
Delivering results is important, but I also want to underline what makes us different, what drives us, and ultimately what makes the Society the business we are today. Viewed through this prism, our growth becomes not just a question of one business's success but also a demonstration of the possibilities and opportunities of the co-operative model. It shows the power of giving back.
Vision and Values
Members are at the heart of everything we do – after all this business belongs to you! This is why a particular highlight for me were the two Member Vision events we held in autumn 2015 in both Jersey and Guernsey, in celebration of the Society's 60th anniversary year as a pan-island business.
I was genuinely inspired by these events, where we saw a cross section of members share their vision for the next decade. Seeing the level of enthusiasm for our business and the interest in the future development of our Society leaves me in no doubt that this ship is being steered in exactly the right direction! I'm delighted to say that as a result of these events, we now have a new vision statement that the Society will be governed by for the next 10 years.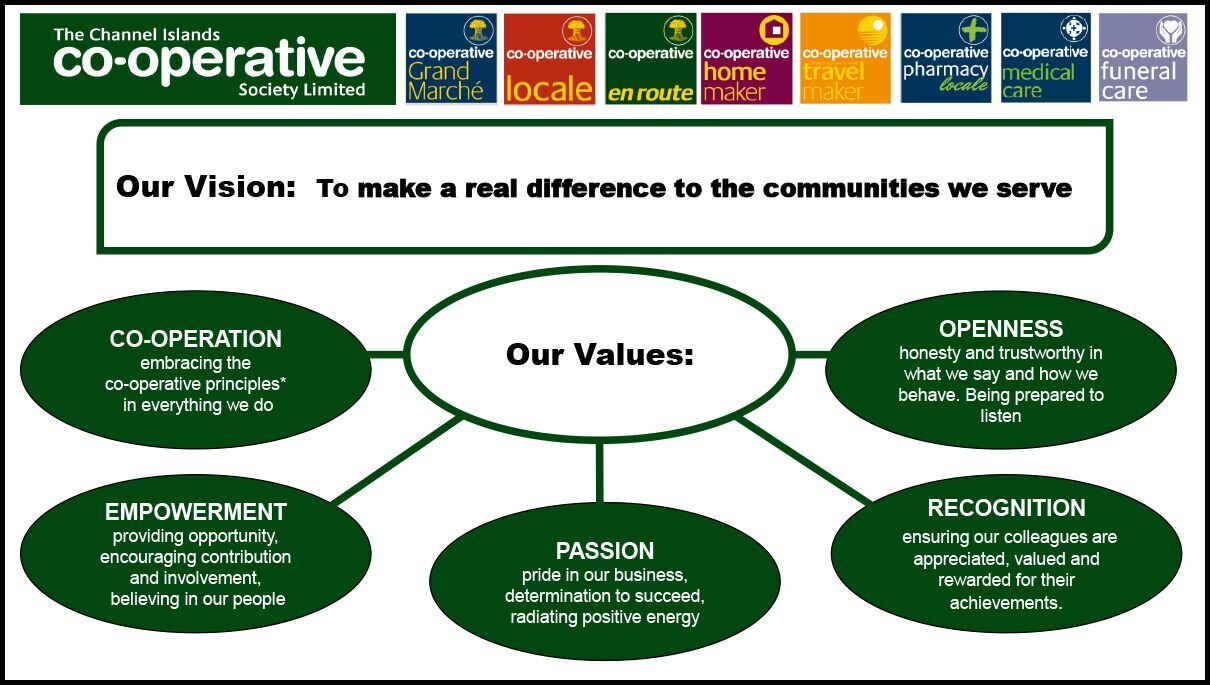 It was fantastic to put into tangible form our commitment to 'our way' – valuing community, people, our local environment; basically, ensuring that we're protecting and building on what is different and special not only about our Society but about the Islands we call home.
Charity Work
These community values have been played out in a number of different ways. Last year your Society gave over £250,000 to various charity projects locally. We supported more than 140 charities, schools and organisations to raise money through bag packing and other fundraising in our shops. We also supported around 300 local charities annually with fundraising prizes and sponsorship.
Our Helping Hands Fund donated approximately £17,500 to a variety of local charities and organisations in its 22nd year. We also support the David Kirsch voucher initiative and in 2015 gave over £180,000 in discount to help the elderly community in Jersey.
Of course without a healthy environment, our communities cannot thrive so we were particularly focussed on our environmental responsibility in 2015. Our new stores have been specifically designed to be eco friendly – and we've reinvested the savings from our dramatic reduction in carrier bag usage to support local environmental projects - the Eco Fund last year donated £25,000 to 20 local environmental causes.

Community Work
Being community conscious also means being creative and open to new ways of supporting local people. We were delighted to support the set-up of the Jersey Bike Cooperative, the brainchild of former employees at Total Sport, Shaun Crowther and Matt de Gouveia.
We continued our roll out of defibrillators at our stores, with our Guernsey stores now also fully equipped. We also supported the innovative Edible Guernsey project, which encourages islanders to get planting and farming in whichever way they can, closing the gap between our food and our fork!
We were also delighted to support Jersey's first ever Pride event last September, celebrating our Island's LGBTQ community.

Supporting Local
Our commitment to our local communities naturally extends to supporting local businesses: this is non-negotiable for us. In 2015, we continued to support over 40 local producers and paid over £11 million for the supply of local produce – money that then circulates back into the local economy. This commitment ensures ranges of local products include dairy, fruit, vegetables, salad, herbs, alcohol, coffee and bakery products amongst others.
As you can see, 2015 was a year of change that still firmly put our values at the heart of everything. Be sure to read the next installment, where I'll talk about all the developments in our stores over the past year.
Stay tuned!