Proposition for the Redevelopment of Charing Cross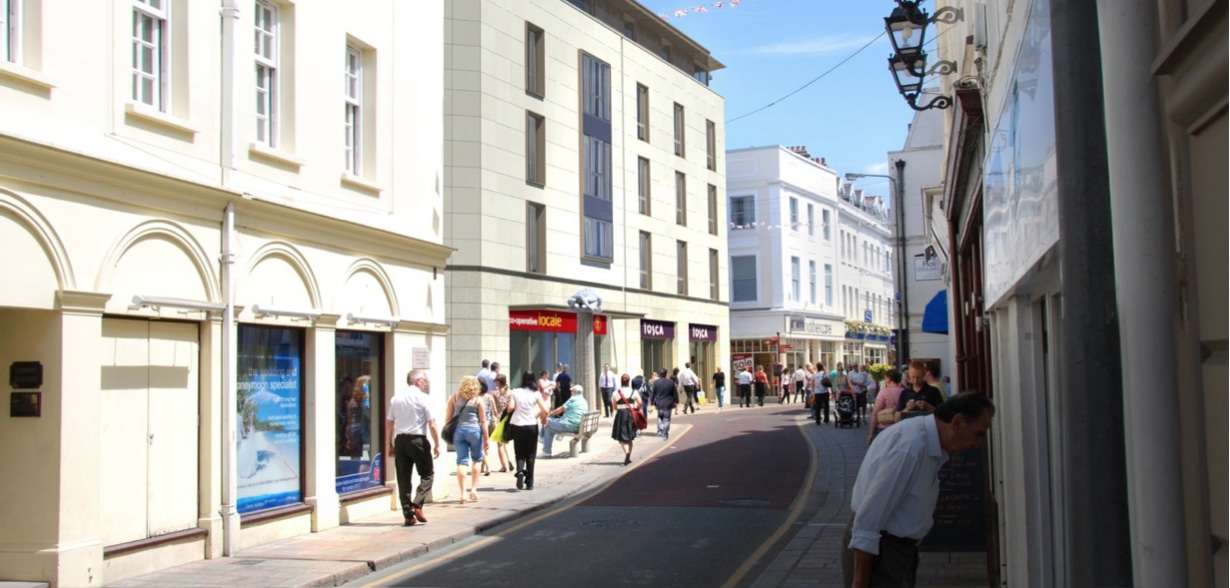 Following further detailed dialogue with the planning department, we have now submitted a new planning application for the redevelopment of our property at Charing Cross in St Helier. Previous proposals for this site have elicited a mixed response. Whilst many locals have been delighted at the range of potential benefits that previous schemes have offered, a number of members have understandably been concerned with the extent of the loss of heritage assets.
Conflict has stemmed from practical, commercial and heritage standpoints, and sometimes, a mixture of all three. However, we are confident that the benefits of this new scheme will demonstrate the fact that we have understood the needs of, and listened to all of our members.
We plan to regenerate the current site, improving the visual quality and amenity of the Town Centre and stimulating pedestrian activity and interaction. This will be a modern, sustainable and environmentally efficient build that maintains the contextual architectural language of the area, as can be seen in the architect's impression below:
![alt]480
Although two grade four 'potentially' listed buildings will be demolished to allow for off-road unloading, the application includes the retention and beneficial reuse of four grade three 'potentially' listed buildings. Providing we receive satisfactory permission, we will also 'gift' three heritage buildings to the National Trust, providing they can restore them. Our plans also see the return of 'Nipper' the dog and the iconic and much loved 'HMV' sign.
![alt]480
This image of Pitt Street shows the restored HMV sign
Crucially the development now includes a proposal for a 91-bedroom Premier Inn. They are the UK's largest and fastest growing hotel chain and will provide a substantial number of jobs and a much-needed boost to Jersey's tourism product, as well as supporting the traders in St Helier.
![alt]480
The feature entrance to the new hotel as viewed from York Street
By investing in this area, much of which has remained in a derelict state for a number of years, The Society will transform this key gateway location into the heart of St Helier. In fact, Pitt Street will also become a traffic-free, pedestrian space with active retail frontages and an integrated public art experience.
![alt]480
View of existing buildings
In summary, this development will provide substantial investment in the Jersey community with the creation of both short-term and long-term employment opportunities, restoration of 'potentially listed' buildings, promotion of the arts and the complete regeneration of a part of town which has been underutilised and remained stagnant for far too long.
As a business owned by, and run for the community, we feel this new scheme delivers a compelling set of benefits and we hope that we will finally secure the permission we need to bring these to fruition.
For information please see the latest press release: http://bit.ly/charingcrosssolution
Visit our website: http://www.channelislands.coop