What next for our larger stores??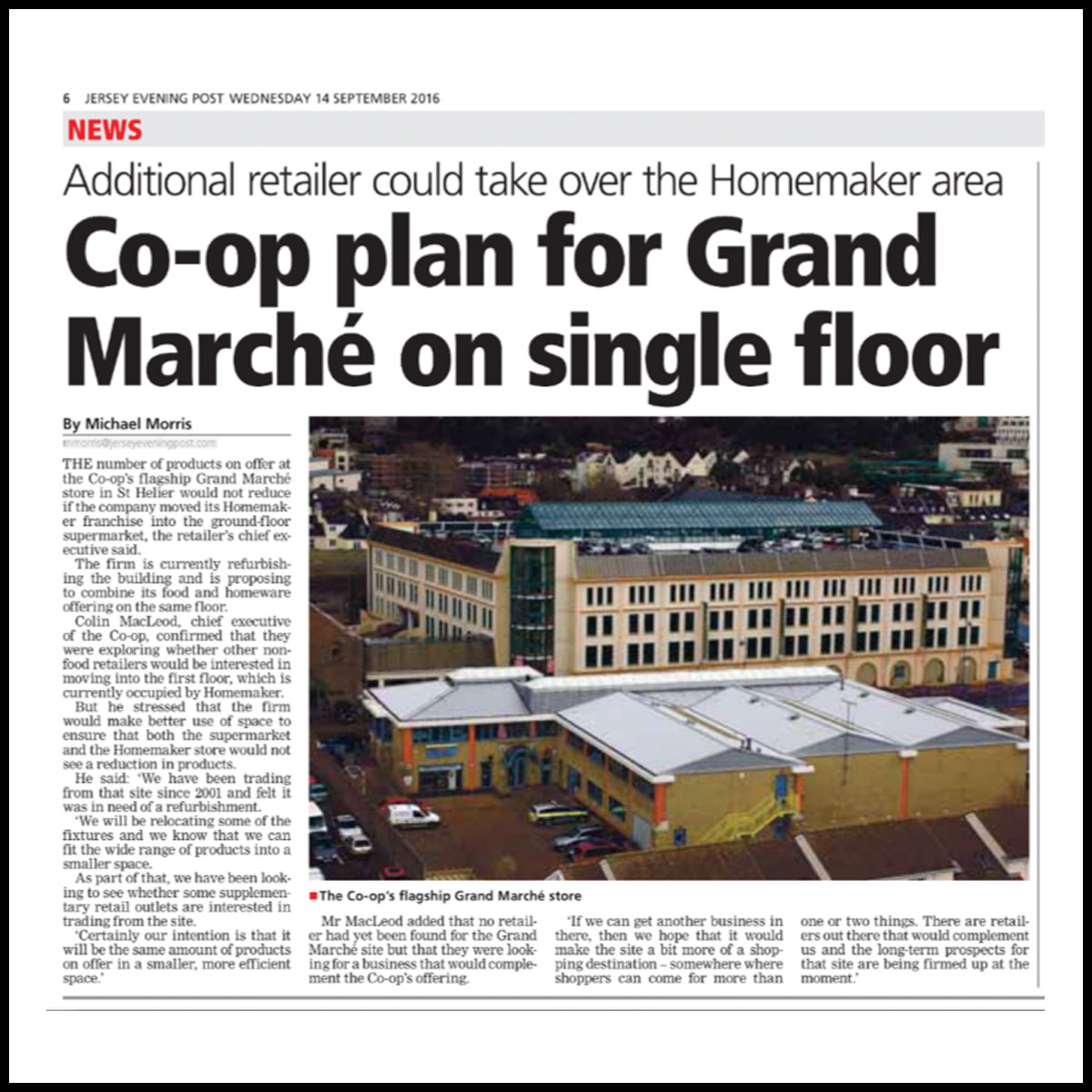 The news that we are seeking interested partners to introduce more choice into our Grand Marché store in St Helier has understandably caused some Member confusion.   The fact that the paper chose to publish only part of the story didn't help!  I thought therefore that Members would appreciate hearing my views on the future of the large store and some insights into the drivers of change in the retail sector.
Let's start with the basics. Any business needs to scan the horizon to understand changing consumer behaviour because ultimately, unless you provide what the consumer wants, you are not going to be in business very long.
For a while now UK retailers have said things like: "it will take years to deal with the large store problem".  What they are effectively saying is that, while larger stores are still vitally important and the weekly shop is certainly not yet dead, they no longer serve the purpose that they originally did – consumers are increasingly opting for regular visits to stores that are local to them, rather than doing a less frequent 'big shop' at a larger store.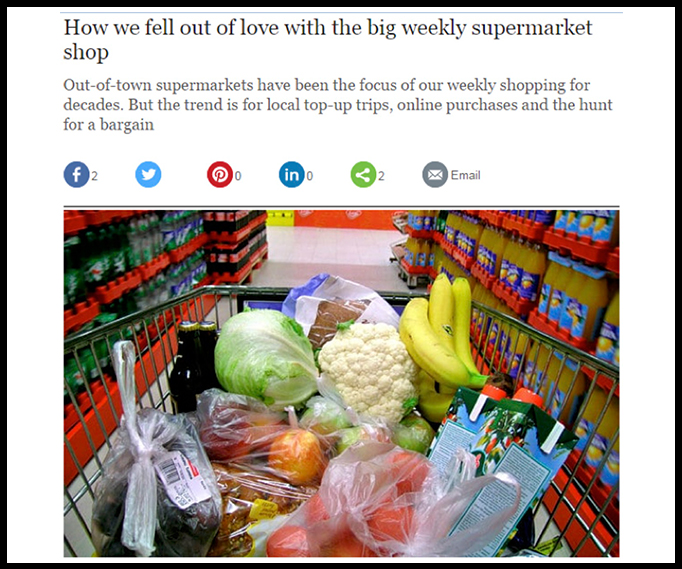 In the UK, one reaction to this trend has been the contraction of the ranges in large stores. Consumers are increasingly accepting that online is an easier avenue to buy products they don't use very often, so supermarkets are trying to manage their overall costs by removing aspects of the range that did not sell at any sort of rate.  In the trade we call these products 'shelf warmers'.
We expect to see larger formats continuing to look for ways to gain relevance and maximise the in-store experience over the coming years.
The point to remember though is they are far from dead; but they are changing.
So what does all this mean for the Channel Islands? The changes in our shopping habits here are similar to those in the UK. We have already reacted to this trend by opening new stores in parts of the islands where we had no presence.
At Member Events held in October last year we were told very clearly that Members were looking for more choice from larger stores.  They were looking for store layouts that were easy to navigate, and for more reasons to visit.
Jersey residents will have seen the fruits of the recent investment in Grand Marché St Peter where we have added a bigger Pharmacy, a Totstop, a Travelmaker and a satellite version of Homemaker.  The only reason we added those elements was in response to what Members were telling us.  They told us it would be great if our award winning Totstop was available in the west of the Island.  Same with Travelmaker, where they felt a convenient and friendly travel agency with parking would be a real draw.  So, we listened and the St Peter's store has changed.
We are selling precisely the same amount of food products in slightly less space and that has allowed for the inclusion of a variety of additional products and services that were not available before.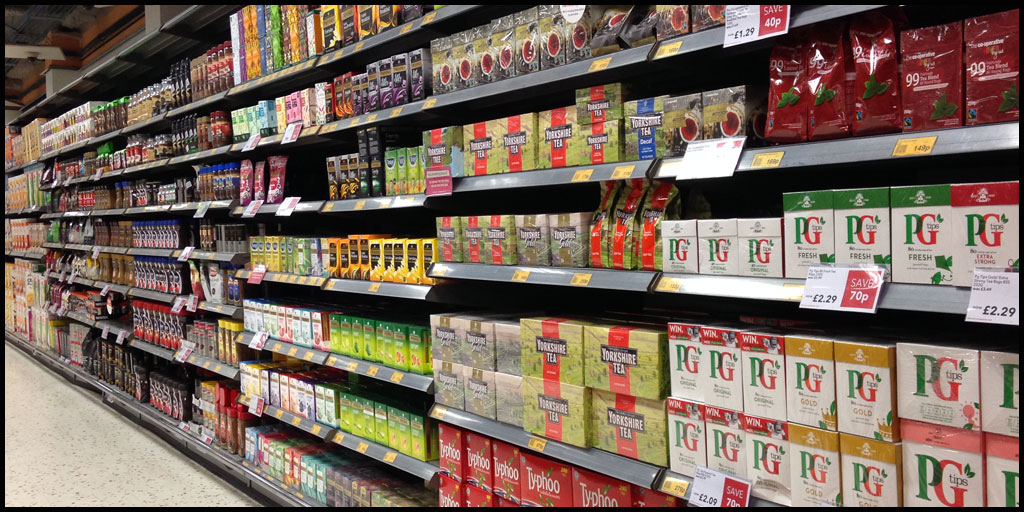 The above image may help to show how we can squeeze more into less. The product categories shown are in St Helier now, and are 'overfaced'. That means we are taking up more shelving than either sales or availability requires. This was also the case in St Peter and happens multiple times across the store. Hence why we were able to sell the same amount of products in less space.
Our Grand Marché St Helier is desperately in need of major refurbishment.  The store had been trading very hard for 15 years now. The refurbishment cycle is the right opportunity to re-examine your offer, based on these new realities, what Members have told us, and our own experiences internally. This means being open to new ways of doing things.
Our routine exploratory exercise may lead to any number of outcomes. What will the shape of our Homemaker offer be in five years? Being honest, I don't know. But, what is clear is that we do see non-food remaining as a key part of our future.
Of course none of this is a reflection on our brilliant colleagues in Homemaker or on the Homemaker brand either. Through all this, communication with our colleagues and Members is our priority.  We advised colleagues of this exploratory exercise back in March and have kept them regularly updated on developments as and when there have been some.
We have always listened to our Members, we value what they say and fully intend to keep listening.  We have two Member events coming up next month, where I, alongside other members of the senior Society team will be anxious to gain Member perspective on the choices in your future.  These have been advertised on the Society website and I would love to see as many Members as possible at these very important events.
Remember, our only job is to serve you as best we can.