En Route to more convenience in Guernsey
We are all very excited about our new En Route in Guernsey at the old GT Cars site. It's great to have another Guernsey store in the pipeline, particularly as our members are so excited about the new Locale that is being developed in Grouville in Jersey.
The new En Route will be on Les Bas Courtils Road, midway between Admiral Park and St Sampson. For the benefit of our Jersey members, Les Bas Courtils Road runs between St Peter Port and the Bridge and is one of the busiest roads in Guernsey. This high volume of traffic means that this new site has the potential to become one of the busiest and most convenient petrol stations in Guernsey – and customer convenience is what En Routes are all about.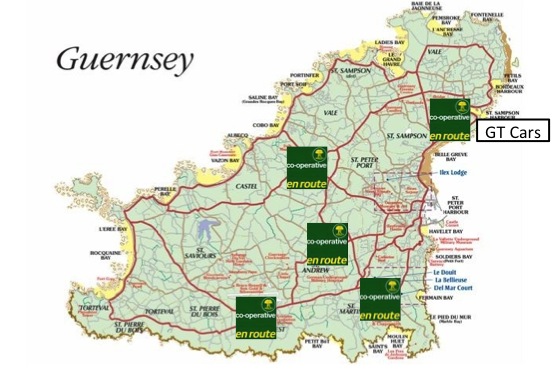 The location will complement our other four Guernsey En Routes perfectly whilst also responding to what our members have told us about how they like to buy fuel. Our Members have consistently said that they would like more Society presence in locations that are convenient to them, and the announcement of the GT Cars acquisition is the latest demonstration of our commitment to listening to what they tell us.
Specifically, when we conducted research to find out how our Members wanted to purchase fuel, it showed that the main 'driver' (no pun intended) was the location of the petrol station, rather than the price.
In both islands, respondents were most likely to visit a fuel station that was 'close to home' (46% Guernsey, 45% Jersey). The convenience of a site ("on the way to....") was also important in both islands (20% Guernsey, 18% Jersey).
These results suggest that is it is very important to have good coverage across the island, particularly in the most densely populated areas. So, developing an En Route store along a key commuter route in this urban area will allow us to support a large group of potential customers on our doorstep, as well as those who live in the northeast or commute through the area.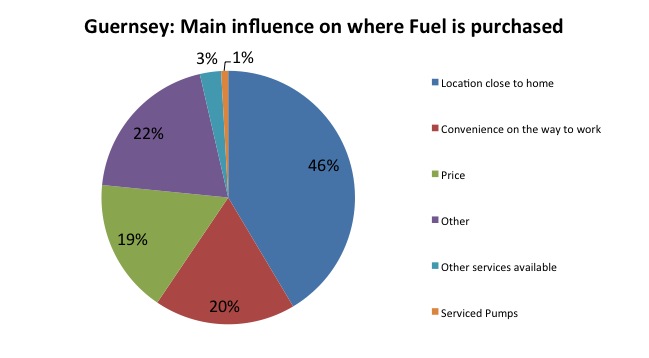 However, we remain aware that pricing is still critical. Since dramatically lowering our fuel prices at the end of 2012 we have seen marked upturn in sales in our En Routes, particularly in Guernsey, and this new En Route will maintain the strategy of lower pricing.
During my time as Chief Executive, having inherited the solid platform of a stable and well run business, we have upped the pace of site acquisition dramatically. This latest announcement follows openings at Don Street, St Mary's and Sion in Jersey as well as St Andrews and Royal Terrace in Guernsey. And all since 2010. It's been a busy time!
It's important to note though that this isn't just expansion for expansions sake. The entire landscape of food retail has gone through a marked structural change in the last five years with consumers tending to turn away from the weekly shop as they have been forced by the downturn in the economy to manage their spending much more carefully and remove waste from their weekly household budget. Consumers in food are often referred to as 'promiscuous' now; they shop around the various stores we have on our islands, searching out bargains wherever they can.
Our Locale and En Route brands have held up particularly well throughout the recession as our members have switched to shopping more locally, more often, safe in the knowledge that they can buy the same great deals from our smaller stores too.
I also believe this has a lot to do with 'quality of life'. Fewer people make the weekly procession to a large store to do the full weeks shop and as such have got a portion of their weekend back to concentrate on things that they would rather be doing. Shopping little and often also obviously means that the risk of perishable products going out of date or deteriorating or simply not getting used when they are at home is largely reduced. This has had a positive impact on reducing the amount of food waste that our community has to deal with. This is a huge benefit in Guernsey where this has to go to landfill.
We look forward to working with our friends at Comprop and JJ Fox to bring this exciting project to fruition over the next eighteen months or so. We hope to be up and trading in this new location before the end of 2015.