Warehousing operations to move to the UK: Putting the strategy in context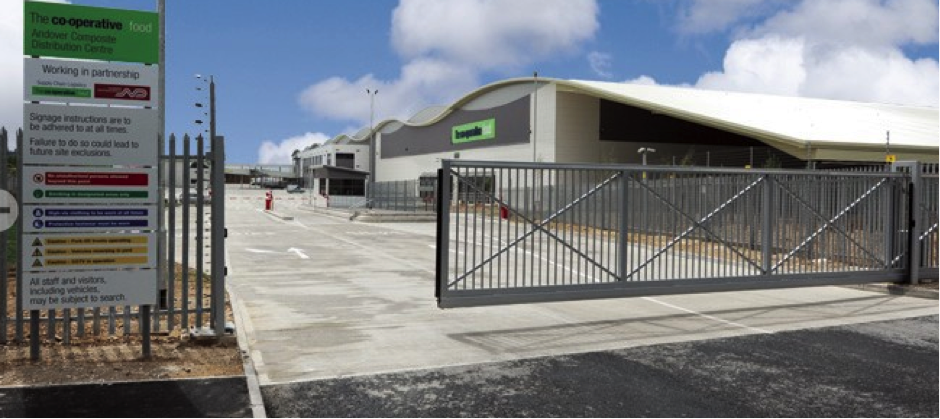 We announced last week that The Society intends to move its food warehousing, in both Jersey and Guernsey, to a Co-operative Group distribution centre in Andover, near Southampton in the UK. Understandably, this news has generated a lot of comment. Several members have contacted me with specific questions, and as a Society owned by and run for many thousands of islanders, we feel it is right that we should publish our responses to these questions so that our membership is better informed.
Firstly I would like to stress this was a very considered and extremely difficult decision.
Our Society operates in an intensely competitive industry which has been going through the biggest structural shift, both locally and internationally, in a generation. The costs of doing business inevitably feeds through to pricing and, with many consumers struggling to make ends meet, the effective control of our cost base is of significant importance. We simply have no choice but to be agile and constantly explore ways of improving our customer proposition whilst containing our cost base wherever we can in order to stay relevant to our members. So when Andover's state of the art Co-operative warehouse had completed it's initial ramp up last year, we were obliged to examine the option of consolidating our food warehouse requirements into one location, which is the very same way our competitors operate.
The change would basically mean than we remove many of the 'interruptions' in our current supply chain. The products in or warehouses are all sourced from the UK now but are taken to our island warehouses before ultimately being delivered to our stores. This means that we are centrally 'booking in', putting products into storage, generating stores orders and picking and delivering these products to our stores ourselves. We undertake these additional tasks twice, once in each island, for over 3,500 products.
Current High Level Supply Model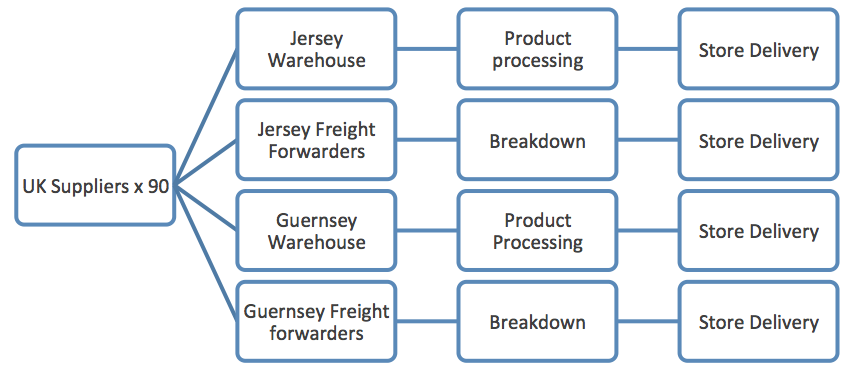 We have been members of CRTG (Co-operative Retail Trading Group) since 1998. Effectively this means we collaborate with other Societies to pool stock requirements and therefore achieve best overall prices.
Our review
During our feasibility review, it quickly became very clear that there would be significant benefits.
Fresh Food
The majority of our fresh food, none of which is currently warehoused locally, arrives with us two or three times each week. This means that we have to wait longer than our competitors to recover any availability issues and can only currently access the best product shelf life on major chilled ranges on certain days. The new solution would offer daily deliveries of the complete fresh food range to all locations.
Range
There are many products available to Co-operatives across the UK that we cannot currently access due to our comparatively small volumes. This means that our stock requirements, with only 23 stores in the islands, are not substantial enough to set up direct accounts with these suppliers. Andover on the other hand, can access the full range on a daily basis as it serves 300 stores, and delivers 1,200,000 cases each week.
Discontinued Lines
Customer needs change all the time. New products are launched and some products fall out of favour. Our current policy means that it takes us far longer to access new ambient lines as we have to exhaust sometimes significant stocks of 'discontinued lines' prior to being able to replace them.
Waste
Our Society, due again to minimum volume requirements, has to hold very significant stock levels on certain ambient products. Because of this, and the associated needs to handle product multiple times, warehousing locally does lead to higher levels of waste than would be the situation out of Andover, which operates a 'clear floor' policy. This means that suppliers only drop off the stock that is required for that days orders. This aspect means that we can release the capital that is currently used to hold stock.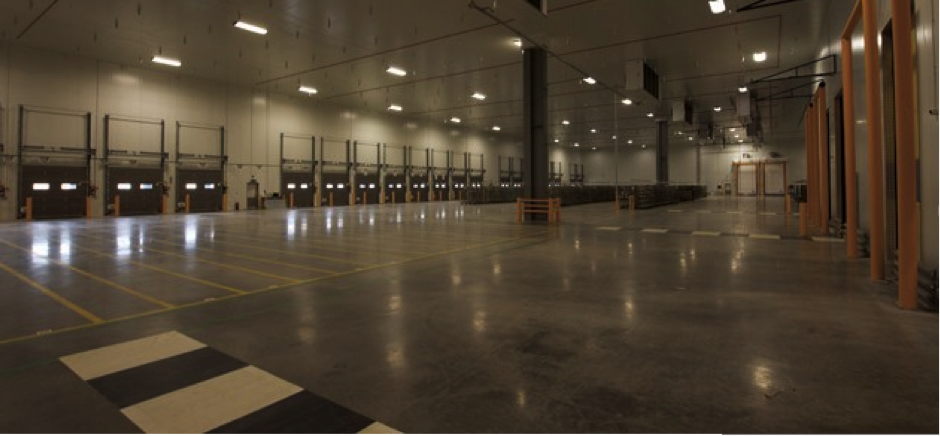 Clear Floor Policy at Andover
Speed of delivery
Because our fresh foods are ordered in bulk before being broken down on the islands prior to store delivery, we have to suffer a delay once Condor has docked before delivering to our stores. A UK solution would improve the situation on fresh lines dramatically. If we consider that fresh food sometimes only arrives with three or four days life (poultry, bread etc.) then every hour really does matter.
Maintenance of infrastructure
In order to operate the way we do now, we require a very large warehouse in each island, fleets of vehicles, forklifts, high-bay pickers, mechanical handling equipment and IT systems etc. For a business of our size, these are all significant costs. These are costs that our local competitors do not have. Sandpiper, Waitrose and M&S all warehouse in the UK and have done for some time. Moving to Andover would effectively mean that we pay 10% of the costs of one warehouse instead of 100% of the costs of two.
Elsewhere, it would now be almost unheard of for a food business to maintain a warehouse or distribution centre that serves less than a hundred stores. In Guernsey ours serves 10 and in Jersey 13. Our fixed costs are therefore shared amongst a handful of stores. Regrettably, these costs are not sustainable.
Stock Replenishment
Our colleagues both in head office and in store currently have to order, and receive from literally dozens of different suppliers. The associated time taken to process these orders and handle the resulting administration is significant. These are costs our competitors do not have to bear and time that could be used to better serve our members and customers.
Proposed Supply Model
The intended model will be an extension of our current CRTG association to include distribution in addition to buying.
It is important to note that this will in no way impact on our local independence.
But...
We are a local business and really do care deeply about local employment.
Whilst these decisions have primarily been taken to focus on the customer experience, I would like to emphasise our commitment to those colleagues who are potentially affected by our intended relocation of warehousing.
In total in Jersey and Guernsey there will be 81 employees that have been informed that their roles are at risk; 60 colleagues in our warehouse operation, 21 in our central supply chain and finance operations. These colleagues have done a fantastic job for us over many years. We are one big team in the Society and we are all deeply upset by what these colleagues have to go through now. I have been in our Society for 24 years. Friday of last week was my worst day.
We are however, a growing business and growth is going to create lots of jobs over the period during which any change will take place. An extended Maufant and a new Locale at Grouville in Jersey as well as a new En Route at the GT Cars site in Guernsey are all in the pipeline. Additionally, with the extended run in to any change, it is very likely that other vacancies will emerge elsewhere in our business. We sincerely hope that our great people will take the many opportunities to retrain so that they may continue their careers with us.
We have also diversified into new community focused areas such as Funerals and Pharmacy. The intended closure of our food warehouses will enable us to become more efficient and improve our customer offer. It should not be read in any other way. Your Society continues to be a very successful co-operative business. We retain the most generous member benefits of any European Co-operative. We are also serving more customers through our growing network of stores than at any time in our history.
The other situation we are very conscious about is food security. We are the last major food business to hold meaningful stocks of food in the islands. Firstly I should dispel a few myths. Our warehouses, apart from a few long life chilled products (butters) in Jersey, do not, and have never held fresh foods. They have only been used to store and deliver ambient products. So, certainly as far as fresh food is concerned, the islands have been at some risk from a food security perspective for some time.
We stand proudly behind our record in taking this seriously. Unlike our competitors, your Society refused to import 'cheap bread' as we knew (and regularly warned that) it would lead to the demise of our on island bakeries. Food security has also been one of the reasons why we have held onto these warehouses so long. But with our major market now extremely competitive and becoming more so with further new entrants likely, the commercial reality for retail is very different to what it was even five years ago. We cannot continue to serve our members best interests by trying to effectively compete with the structural disadvantage that we have in warehousing on the islands.
With our community obligation very much in mind, we have agreed a solution where we will be able to air freight some product into the islands should there be periods of extended sailing disruption. Whilst this is certainly not a panacea to a boat sunk in the mouth of the harbour, it will enable us to get some essentials in whilst a better solution is put in place.
Since making the announcement, a few members have contacted me concerned that this move would mean that we would no longer support our local growers. I can categorically say that we will continue to be the major supporter of local in the islands. Last year we spent over £11,000,000 with businesses that grow, rear or produce products in our islands. This support strikes to the very core of our purpose. If anything, I can actually see that support increasing in the future as we continue develop these crucial long term relationships whilst at the same time nurturing and encouraging new entrants to the local market.
In conclusion then:
• The Society is making important changes that put the focus on the customer experience and realise some cost efficiencies
• Moving our supply chain will allow us to improve fresh food availability, increase shelf life in store and give us access to greater range
• This is a fast moving, rapidly evolving, intensely competitive industry and we have no choice to explore new opportunities and adapt our business to meet the challenges
• We take our responsibilities seriously and this decision has certainly not been taken lightly.
I hope Members will find this additional context helpful.